The Conflict of the Ages Series — Ellen G. White's five book masterpiece spanning the Bible from Genesis to Revelation draws the reader's attention to the battle raging in the universe between Christ and His angels and Satan and his fallen angels. Her Spiritually gifted insight into apocalyptic history gives detailed accounts of this conflict between good and evil. 
The series opens a window into the Spiritual warfare that started as a rebellion in heaven by Lucifer before creation of this Earth and the fall of Adam and Eve. The establishment of nation instituted by God and the accounts of the trials and failings of His people allow the reader to learn from the mistakes of the Patriarchs and Kings. Her central book in the series is on the life of Christ. It details God's reestablishment of His authority over sin by sending His Son to earth to be crucified as an atonement for the sin of all mankind. His resurrection and victory over sin offers everyone the gift of eternal life.  The final book relates the history of the Christian reformation and final battle for the inhabitants of this planet. It concludes with the cleansing and restoration and of our universe from Sin after the millennium. 
Throughout the series Ellen White relates this cosmic conflict to our own personal battle for redemption. "God is Love," is a central theme of the series. She invites the reader in all five books to make a decision for Jesus Christ. To accept Him as their personal friend and Savior.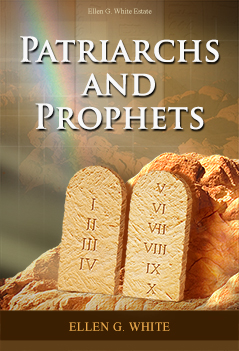 Patriarchs and Prophets. Patriarchs and Prophets is the first volume in the Conflict of the Ages series. It covers the sweeping panorama of human history from the creation of Earth to the reign of Israel's King David. With unusual insights the author describes the role of our planet in the cosmic conflict between right and wrong, truth and error. She describes the tragic rebellion that took place in heaven many thousands of years ago and makes plain that this ongoing conflict between Satan and God affects each person who lives on Earth. Patriarchs and Prophets shows how this conflict worked itself out in the lives of men and women in Old Testament times. It answers such questions as: "Where did we come from?" "Where are we going?" and "If God is all-powerful, why doesn't He prevent the spread of evil and its tragic results?"