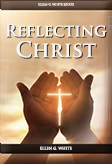 Reflecting Christ — is the 14th daily devotional book to come from the pen of Ellen G. White. Her writings are so Christ-centered, so practical, that they continue to provide an almost endless source of materials that are well suited for one's devotional life.

Reflecting Christ — is a theme that recurs throughout the writings of Ellen White. Mrs. White loved the Lord deeply and she earnestly endeavored to walk in his footsteps. She always encouraged others to look to Christ as their shining example. Highlighting this theme, she wrote: "As images and objects are reflected from the face of the mirror, when revealed by the sunlight, so these themes will be mirrored in the mind when illumined by the love of Christ."

Reflecting Christ — should be every Christian's highest goal. The pursuit of this objective, under the impetus of the indwelling spirit of God and the grace of Christ, can bring with it only peace and true happiness.